Process - AW20 Apparel Design and Inspiration
---
Author: Keaton Raftery / Published: Apr-23-2020
As we left Ashford Castle and headed through the small town of Cong, I was already in awe of the aging architecture and lush greenery that surrounded us. I made a comment on how beautiful the countryside looked and Mike kept telling me to "Just wait, it gets better." This was Mike's fifth time in Ireland; my first. It was a radical change of scenery considering we had just come from Dublin. The pubs, coffee shops and fashion districts of the faraway city were nothing short of inspiring, but the countryside quickly became my favorite place in Ireland. The tranquility and beauty stretched as far as the eye could see. The rain didn't seem to bother me; it added to the experience and made everything so damn green.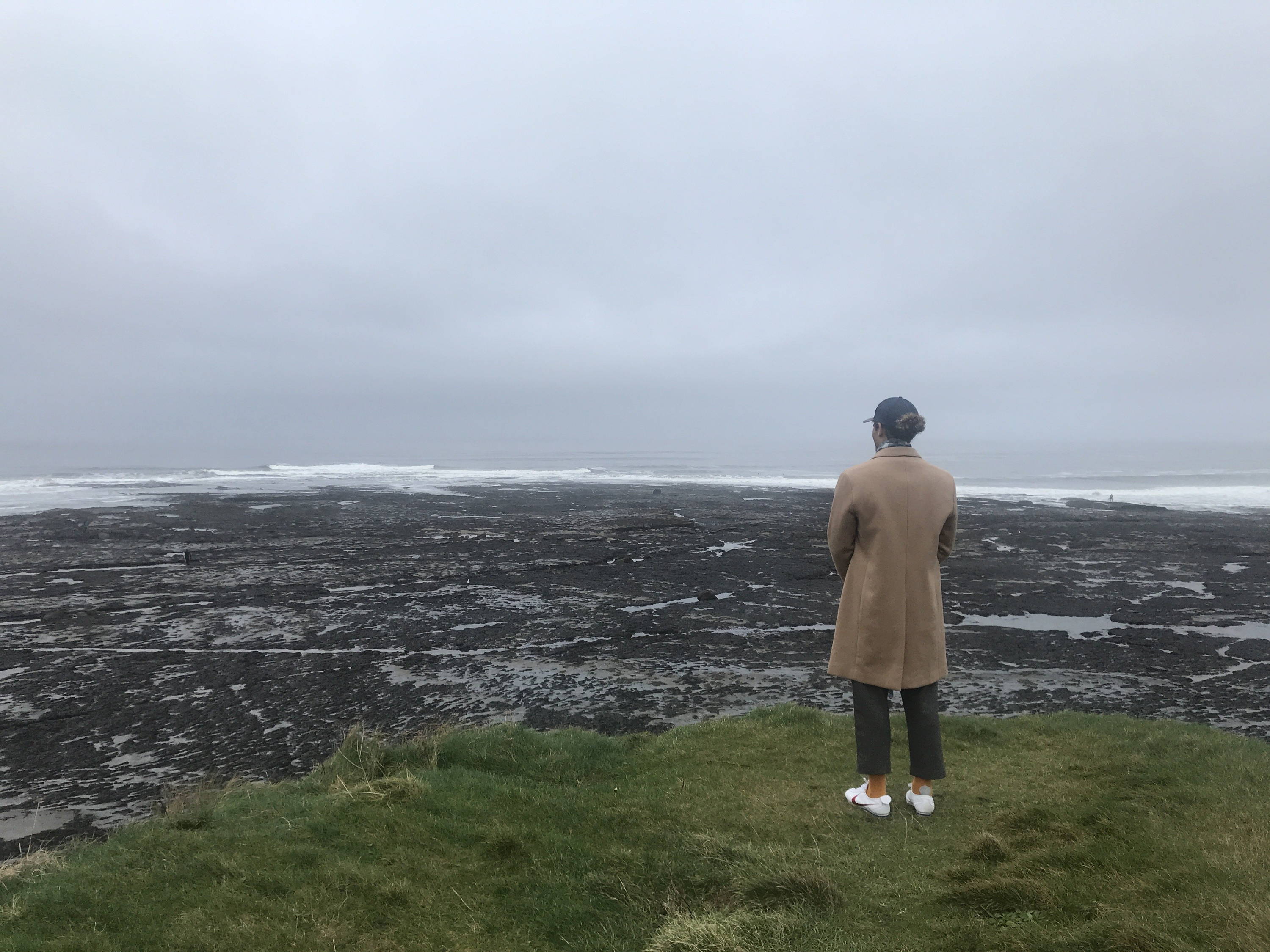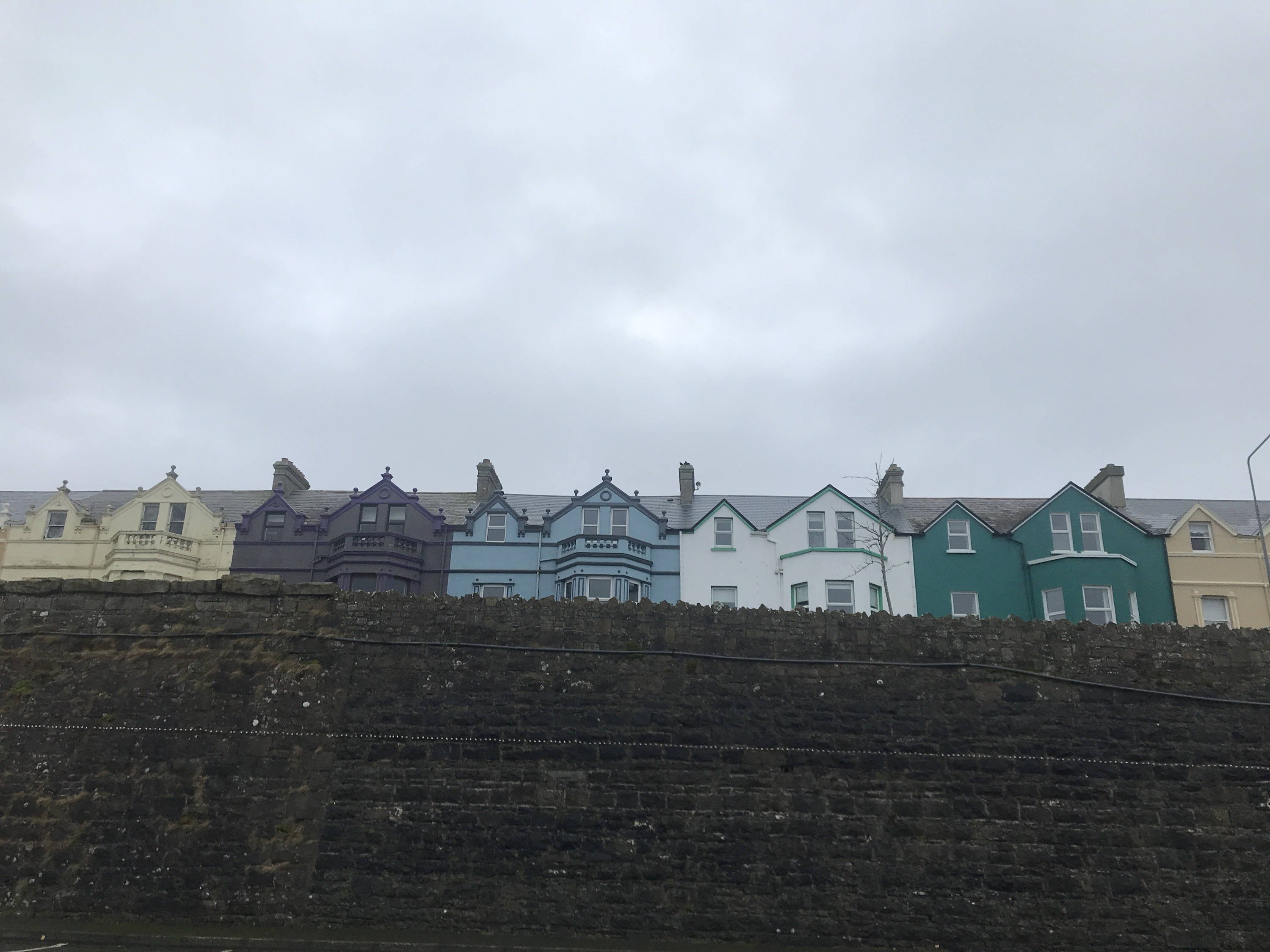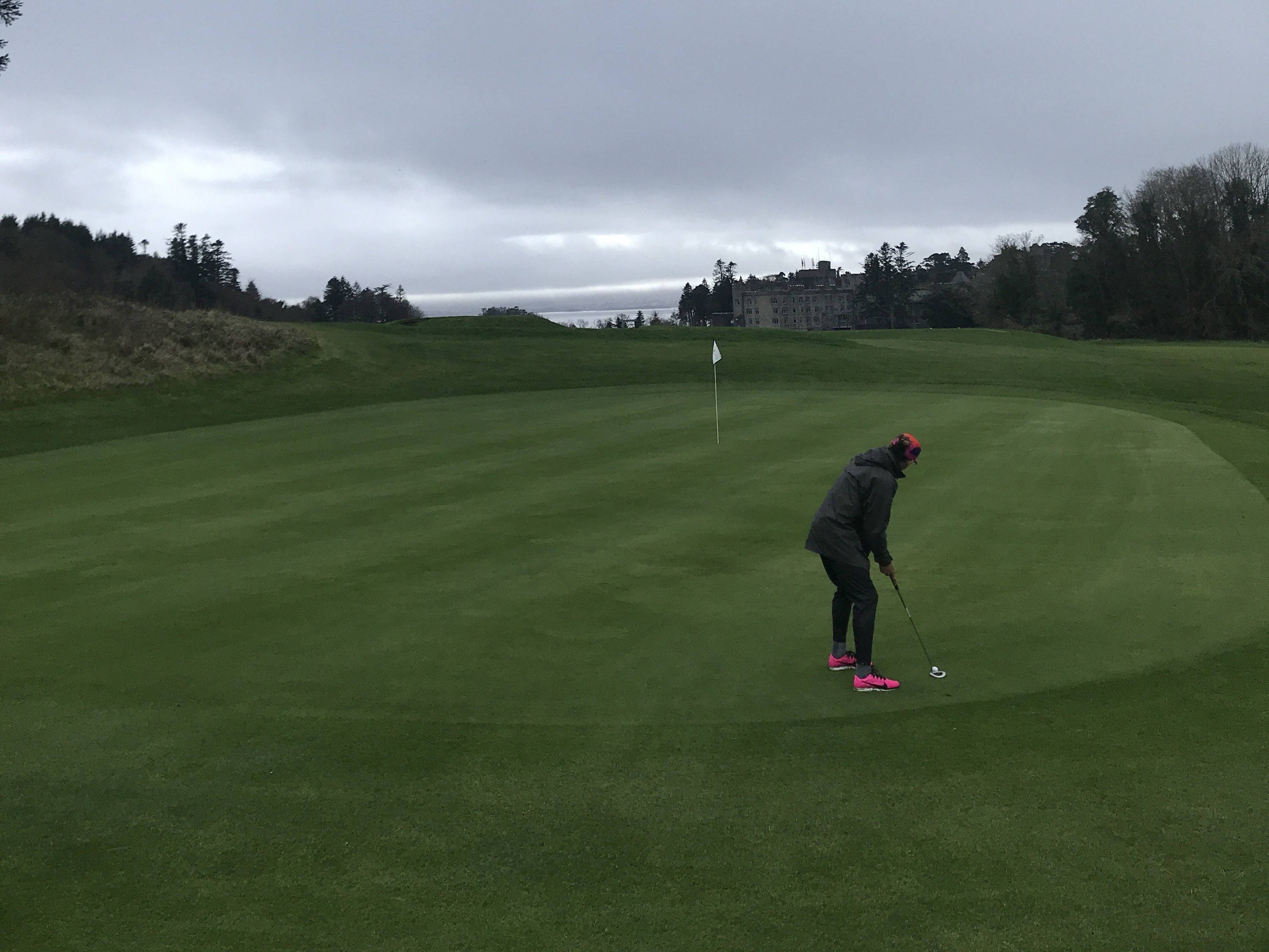 After a winding two hour drive towards the west coast, the beaches of Bundoran finally popped into view. We started to get a bit antsy as neither of us had seen the ocean in over a week. As we pulled up along the seawall, we began seeing little black specks appear in the water; surfers. As many as 15 sitting on two different peaks enjoying glassy shoulder high conditions while braving the frosty Atlantic water temps. After 30 minutes of watching sets roll through and highly contemplating renting boards from a local shop (we regretfully left ours back in San Diego), we decided to continue north to our destination; County Donegal, the home of Magee Woolen Mills.
We were greeted by Patrick Temple, Magee's current Chief, as we pulled up to the factory for a tour. Patrick warmly invited us in to start the tour off with a viewing of the copious amounts of swatches strewn about a conference table in an upstairs office. We flip through each swatch one by one and start piling up different herringbones, linen blends and flecked tweeds to review. Once we narrowed our selection down to less than 100, we continued on downstairs to tour the rest of the facility.
As it was noon at this point, most of the staff was out for a lunch break, allowing us to get up close and personal with the looms as they continued to weave, unattended. Patrick walked us through each machine and explained the process of how each station works from hand-weaving fabrics to the industrial looms. He explained how ethical and sustainable practices are a core belief of the Magee way. Magee uses natural fibers in their fabrics such as wool, linen, alpaca, cashmere, mohair and silk to name a few. All of these natural fibers are biodegradable and renewable. All warping, weaving, and finishing of fabric is done in house allowing the highest quality of fabrics to be produced. They are actively planting forestry to help offset any carbon emissions their factory puts off. At Imperfects, we only wish to work with companies that strive to be as environmentally conscious as possible. Magee has gone above and beyond to make certain they are doing all necessary means in order to achieve this.
Once the tour was completed, Patrick showed us the upcoming product line that Magee has in the works - a fresh perspective from a company that has been thriving for well over a century. They continue to create timeless garments from bespoke suiting to overcoats to flat caps. Seeing this apparel line helped us bring a new inspiration into designing our AW20 line. We ended up choosing over 50 new swatches to add to our design library; almost all of which Magee has been making for over 100 years. We are currently waiting for fabric to land stateside so we can start manufacturing!
After a shake of hands and a couple more laughs, it was time for us to leave. Per recommendation from the locals, we stopped at the Olde Castle Bar on the edge of Donegal Town for some fish and chips and a quick pint. A lovely older gentleman warmly greeted us as we walked through the door and plopped ourselves down in a booth now safe from the cold of the outside world. His friendly demeanor quickly turned quite sour when Mike attempted to order a Murphy's. His response sounded something like "Oh, I'm afraid you're on the wrong side of Ireland to be orderin' one of those boy-o" (in our best Irish accent). I abruptly ordered a pint of Guinness, hoping my answer will bring on a better response. Mike follows my choice and we both order our meals.
Once our bellies were full of beer and food, we started the trek back to Ashford Castle. This castle has always drawn Mike in, due to the complex yet tranquil ambiance within the walls. The Castle, as we'll call it, offers many unique experiences from golfing to fly fishing, falconry, off-roading and clay shooting, all on the castle grounds. The Castle also provides a plethora of indoor activities such as a Cinema Room, a handful of restaurants to dine at and our personal favorite, the Billiards Room, which hosted vast selections of worldly whiskeys and Cuban cigars. In my opinion, the Billiards Room is where Mike gathers most of his inspirations from. Nothing gets the man's creative juices flowing more than a nice Irish 25 year and a smooth Cuban cigar. The decor and thoughtfully curated paintings in the Billiards Room are extremely detailed yet calming. The silk covered walls complemented the grand assortment of antique leather furniture. The mixture of fine whiskies and the hand-carved oak and mahogany amenities would likely be a wet dream for Ron Burgundy.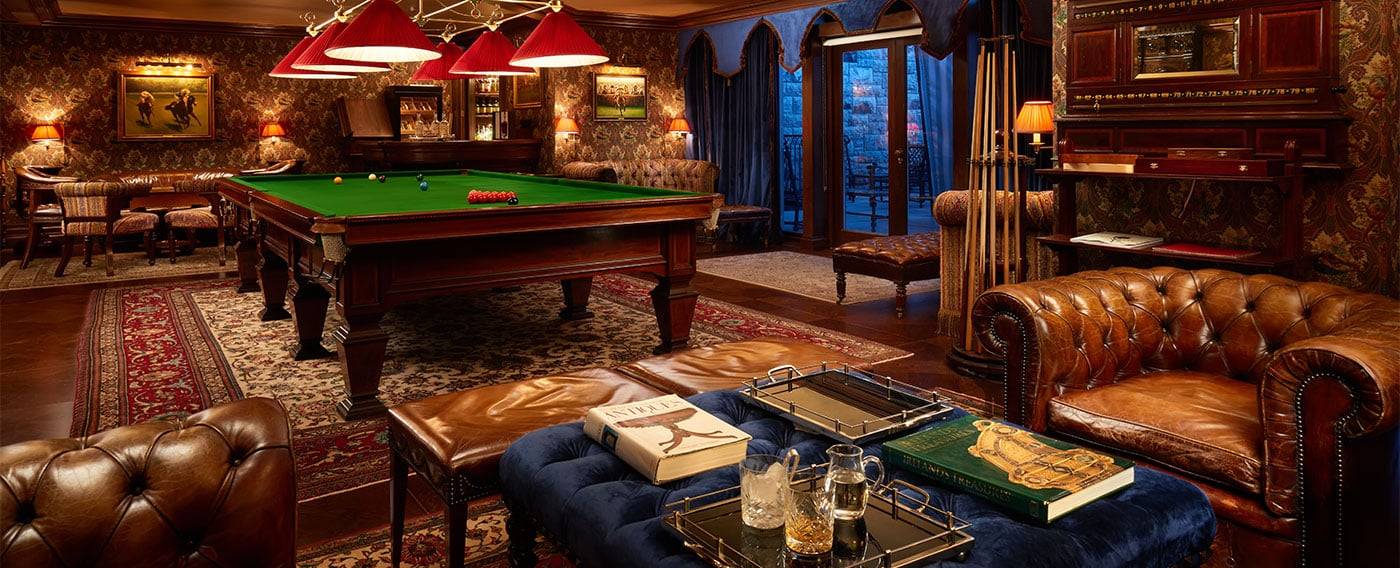 After a pour (or 3. Or 4.. OK and a couple of Guinnesses) Mike introduced me to the ways of fine cigar smoking on the terrace. We enjoyed a couple Cubans and reminisced on the day's accomplishments. Mike explained to me in further detail, why we embark on these international tours; why he continuously returns to Ireland and Japan. These countries manufacture some of the world's highest quality of fabrics but more importantly, hold inspiration for our next line of apparel. How our surroundings are pieces of art applicable to our projects back home. How the architectural design and garments and fabric assembly all hold influence for Imperfects.
As we smoked down to the foot of our cigars and savored the last few swigs of whiskey, it was time to call it a night. Sleepy eyes would greet us in the morning to begin our journey home. As I sat back in my plane seat, I couldn't help but smile at the inspirations and ideas floating around my brain. I now know how and why Mike finds inspiration in these far off lands. It's not just the sights, designs or tangibility of them - It's through The Human Experience.
I was able to get Mike in the hot seat this week to reminisce on our trip and answer a couple questions for this journal post over a whiskey neat.
How many times have you been to Ireland?
5 times so far. Twice as a young lad, once with my wife and twice in the last 2 years.
What keeps you going back?
The natural beauty of the place and the natural kindness of the people. I happen to be close to 50% Irish as well so I have a natural affinity for Brown Bread, Beef Stew, Whiskey and Guinness.
What was the purpose of this most recent trip?
To learn more about the making of natural fabrics and fibers in Ireland and to find an Irish supplier of these things for our brand. Also to visit a 100% made in Ireland trade show.
What is your favorite place in Ireland?
Tough to answer but would have to be a tie for number 1 between a small port town called Dingle and a place called Cong (where there is a place called Ashford Castle which I love visiting).
What part of Ireland is your family from?
We are from the Ring of Kerry, as they say. We have family in Listowel, Ballybunion, Kilarney and even Cork.
You've stayed at Ashford Castle a handful of times - What about it keeps you coming back?
The intricacies of the place and the quiet you can attain from it. It has a history unlike any other place I've been to - most recently owned by the Guinness family - and a seriously enriching setting. Its tough to put into words but basically everything good in the world can be found at Ashford and it serves up the best pint of Guinness you will ever have. The whiskey selection is only trumped by the people who know everything there is to know about those whiskey's they are serving you. There are cuban smokes on tap. Every square inch of the place is designed with detail and intense care, it's never ending inspiration.
Where did you hear about Magee & why do you have an interest in their fabrics?
I came across Magee when I was about 15 years old and in Ireland for the first time. I was given an irish bag boy cap and the label inside said Magee Weavers 1866. I fell in love with Tweed in that moment and wanted to work with them somehow in some way at some point in my life.
What garments do you plan on using their wool fabrics for?
We are designing a group of pieces that pay homage to both blue collar and white collar wardrobe back in the early 1900's of Ireland. Mixing a beer maker's chore coat with a doctor's overcoat. A high waisted wool trouser that you can skate in. Tweeds are incredibly robust and comforting at the same time so we intend to design fashionable-everyday-functional workwear pieces.
What's your favorite Irish Whiskey?
At the moment a bottle called The Irishman 17. Finished in a proper Sherry Butt (Cask) the irish way and only purchasable in Ireland (meaning its made for the Irish), this whiskey opens up and smells like Maple Syrup, morning dew and dried tobacco. It was matured and bottled in 2002. Its damn good.
Planning any surf trips to Ireland anytime soon?
Absolutely, when this pandemic comes to an end, I'll be planning a surf trip to Ireland to make a short film about our new apparel line and all of the goodness that comes with that.